Lessenrooster Onthaal, Organisatie & Sales
3de graad · 1ste & 2de leerjaar · finaliteit arbeidsmarkt (bso)
Campus 2.3
Wat leer ik?
In deze richting krijg je inzicht in de werking van een onderneming. Je oefent vaardigheden die je kan inzetten bij een functie aan het onthaal of bij de verkoop van producten of diensten.
Je leert hoe je klanten vriendelijk onthaalt. Je oefent hoe je bezoekers vlot en professioneel kan informeren over producten of diensten. Naast Nederlands zijn ook Engels en Frans hierbij belangrijk.
Met behulp van digitale programma's leer je goederen en documenten verwerken en klasseren.
Dit is een praktische studierichting. Je loopt stage en proeft op de werkvloer van het echte bedrijfsleven.
Is dit iets voor mij?
Je leert gemakkelijk vanuit de praktijk

Je voelt je aangetrokken tot een job in een bedrijf

Je hebt interesse in onthaal, logistiek, administratie en verkoop

Je bent iemand die initiatief neemt en je werk goed kan organiseren

Wat kan ik er later mee doen?
Deze richting bereidt je voor op een job in de verkoop, het onthaal of de organisatie van een winkel of bedrijf.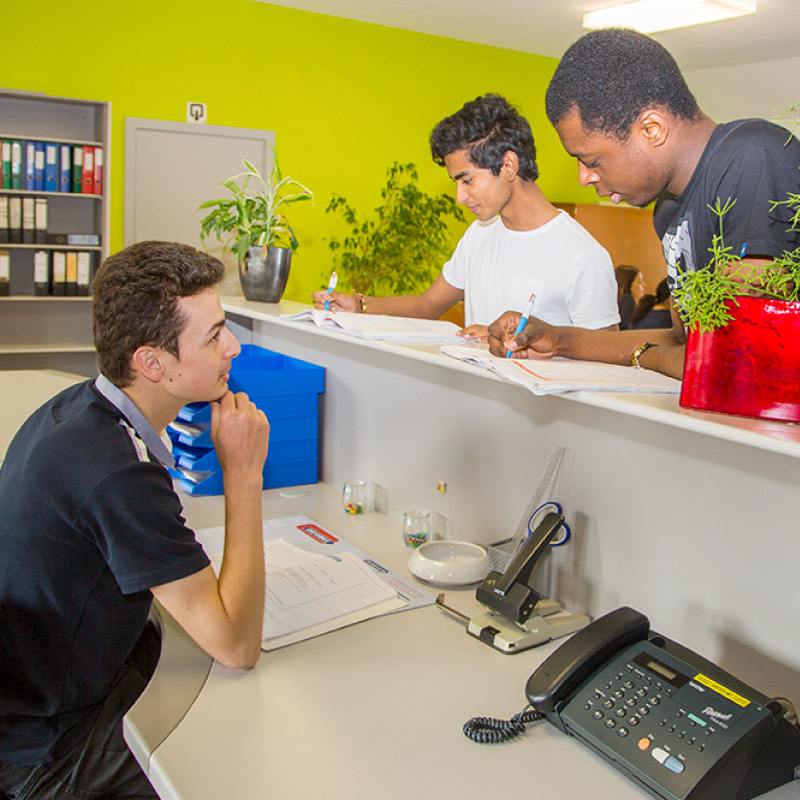 3de graad · 1ste leerjaar
ONTHAAL, ORGANISATIE & SALES
Godsdienst
2
Lichamelijke opvoeding
2
Nederlands
3
Engels/frans
6
Duits
1
Wiskunde
2
MAVO
3
Onthaal & Administratie
4
Verkoop & Sales
5
Stage
4
3de graad · 2de leerjaar
ONTHAAL, ORGANISATIE & SALES
Godsdienst
2
Lichamelijke opvoeding
2
Nederlands
2
Engels/frans
4
Duits
1
Wiskunde
2
MAVO
2
Onthaal & Administratie
4
Verkoop & Sales
4
Seminarievak E-commerce
2
Stage
7